Doctor's Cave Beach was named for a physician who donated his beach property to form a swim club; the property was once accessible via a cave that was later destroyed by a hurricane. It's a place full of history, not the least because this is the strip of sand that helped put Montego Bay on the international tourist map. The beach is located in the heart of MoBay and maintained by the Doctor's Cave Beach Club, a membership club that charges an admission fee for use of the beach. It's a small price to pay, however, for access to a great beach that's right off Gloucester Avenue with a new clubhouse with changing facilities, the Groovy Grouper beach bar, and other amenities.
CORNWALL BEACH- MONTEGO BAY
Vacationers looking for the most oceanside action will find plenty to enjoy at Jamaica's Cornwall Beach for their perfect vacation.Visitors should keep in mind that , though Cornwall Beach is certainly not secluded , you'll find it's further from the crowds in Jamaica than others . It's a great option for families and groups of friends who would like to make the most of their time at the beach but hope to stay away from the most populated spots.
Walter Fletcher Beach-Montego Bay
Though not as pretty as Doctor's Cave Beach, or as tidy, Walter Fletcher Beach is home
to Aquasol Theme Park, which offers a large beach (with lifeguards and security), water trampolines, Jet Skis, Wave Runners, glass-bottom boats, snorkeling, tennis, go-kart racing, a disco at night, a bar, and a grill. The park is open daily from 9 to 6; admission is $5, with à la carte pricing for most activities. Near the center of town, the beach has protection from the surf on a windy day. This means you can find unusually fine swimming here; the calm waters make it a good bet for children.
Rose Hall Beach, Montego Bay
If you're in Montego Bay and looking for a more sedate beach experience than you'll find downtown, head east to Rose Hall Beach. If you're staying at one of the luxury beachfront resorts here, such as the Iberostar, Half Moon, the Hilton Rose Hall, or the Ritz-Carlton, then this glorious strip of sand is right outside your doorway. If not, you can access this strand at the Rose Hall Beach Club, which has a restaurant, beach bar, and live entertainment, among other amenities.
Dolphin Cove Attraction-OCHO RIOS
The largest maritime attraction in the Caribbean, this is a family fun day for all. You can interact with our amazingly friendly dolphins by choosing either a touch, swim dorsal pull or foot push program.
You can also wander the trail in the lost jungle and interact with birds, snakes, iguanas if you wish. This attraction is adjacent to the world-famous Dunn's River Falls. [Phone: 876-974-5335].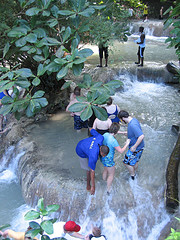 Truly no trip or vacation to our beautiful island is complete without climbing this majestic waterfall!
Led by experience guides, you can climb the falls with other visitors in a human chain. This hidden treasure was made famous by Tom Cruise's movie, 'Cocktail'! [Phone:876-974-5944].
If it's a deserted beach you have in mind for your Jamaican vacation, Treasure Beach is the place to go. This south coast beach community, known as much for fishing and farming than tourism, offers a great opportunity to mingle with 'real' Jamaicans far from the tourist hordes. Try Jake's Hotel, which is part of the Island Outpost chain and located oceanfront. Expect to find uncrowded sands, private coves, and laid-back resorts, dining and nightclubs.
Boston Bay Beach, Port Antonio
Boston Bay Beach, located in the somewhat faded tourist town of Port Antonio, is known for having some of the best jerk stands and surfing in the country. The beach is frequently by locals and tourists alike.
ALSO IN PORT ANTONIO:
Frenchman's Bay is said to be among the most beautiful beaches in the world. For the  small charge of $3(USD), visitors can sunbathe, swim, body surf, or simply relax in the shaded parts of this gorgeous Jamaican treasure.
Blue Lagoon Beach is famous for hosting Brooke Shields in the movie Blue Lagoon. The deep water is a gorgeous shade of cobalt blue and is excellent for swimming and enjoying the environment.
Kingston Area
Just off the coast of Port Royal is Lime Cay, a small island perfect for both sun bathing and water sports.  There is no formal form of transportation to and from the island, so your best bet is to head to Port Royal and hire a local fisherman to transport you.
Hellshire Beach: Not Only For Locals
Hellshire beach is located on the outskirts of Port More, a small town neighboring Kingston on the South coast of Jamaica. It is considered the best of any of the Kingston beaches.

This local beach is one of the most famous beaches in Kingston, Jamaica. It is a favorite to locals of Kingston and surrounding towns. Hellshire is different than other beaches in Jamaica as it is a public beach for families with great fresh fish just yards away from the water. You can also try a brief horse ride on the beach if you get
Ocho Rios
Two of the most popular beaches in Jamaica are Turtle Beachand Mallard Beach. Both are tourist-oriented spots with plenty of food, fun activities, and fellow visitors. Several hotels are located along both of the beaches, so if you are looking for a place to stay on the water, these might be good locations to search for accommodations.
Great Investment property For sale(JA)
Best places to stay in Jamaica